Introduction to hosting
In this article, we suggest you to familiarize with the information on how to use RealHOST hosting services, not to get lost among a plurality of control panels and make your work with hosting as comfortable as possible.
The first thing to remember is that every hosting client .

E-mail will be your login to access the website and hosting billing system. Also, any communication with the hosting provider is carried out only through the contact E-mail address.

Do not try to register services using non-existent E-mail addresses. You will not be able to receive the necessary notifications, restore access to hosting, and we will not be able to identify you in any way, which is fraught with loss of access to paid services.
In order to use hosting services, you need to:
1. Sign up using a contact Email address.
This can be done on the website https://realhost.pro/account/login or in the hosting billing system https://my.realhost.pro

It doesn't matter where the registration is done. Further, the entrance to the site and the entrance to the hosting billing will be performed by using the E-mail address and password you used.
2. Order and pay for hosting service
An order for any service is made and paid for on the website https://realhost.pro or directly in the hosting billing system.
In the billing system, you can:
manage orders, renewals and their expiration dates
make payment
see the history of payments and expenses for services
print or order the sending of performed works acts
print or order the sending of reconciliation acts
keep correspondence with hosting support
execute the contract for services
register service payers
create additional hosting users and manage their access to the account
Each service has its own control panel, which you will receive in an email message from the hosting provider after paying for the service..
A list of all control panels is available in the footer of the site https://realhost.pro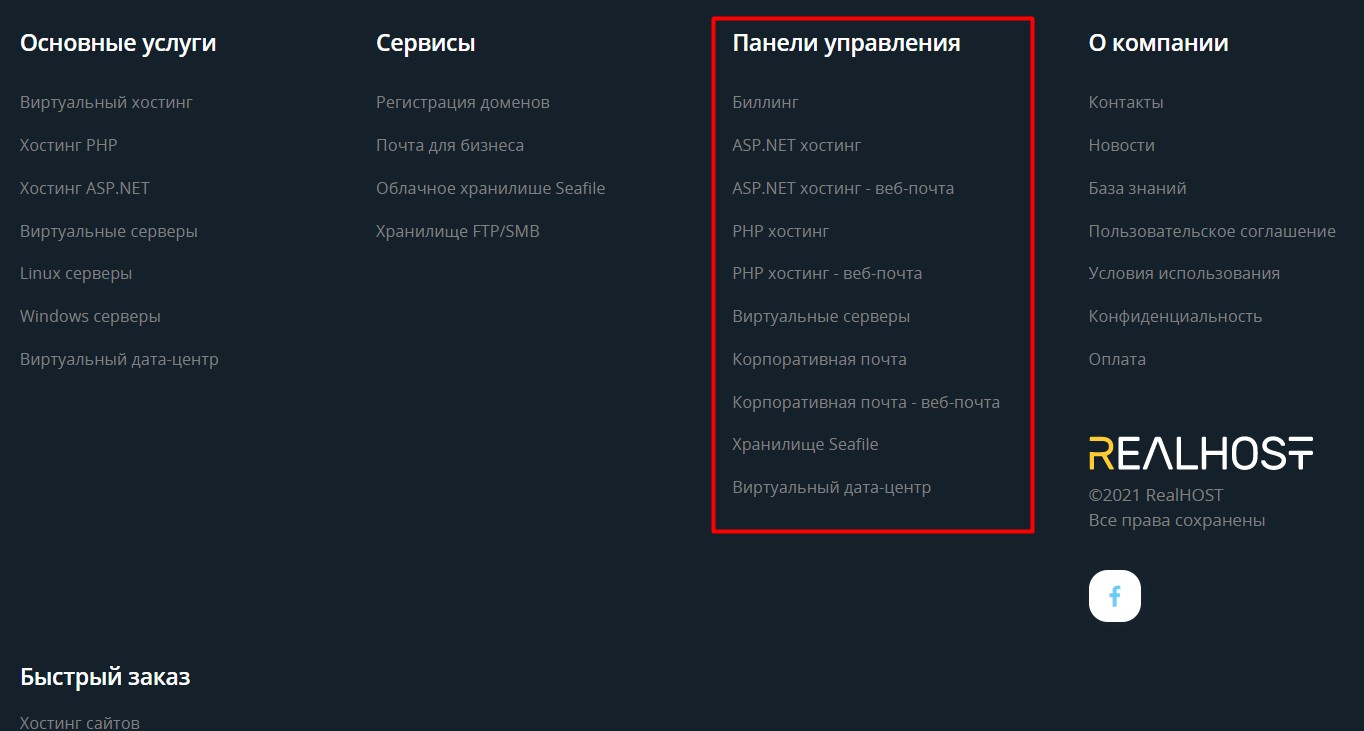 3. Follow the messages of the hosting provider on the contact E-mail
Follow the instructions and reminders from your hosting provider. Hosting automatically reminds you of the need to renew the ordered services, or to delete overdue orders.
Sometimes letters from the provider can get in the SPAM folder, take care that the messages are available to you.
4. Pay and renew services on time
If the ordered service is not paid on time, the service stops. Each service stopped has a retention period. It depends on the type of service, for example:
shared hosting - 1 year
VPS virtual servers - 1 month
More details can be found in the information on a specific hosting service.
Upon expiration of the storage period, the unpaid service is deleted forever, without the possibility of restoration.
5. When the services are no longer needed, remove them from the hosting billing system.